Bourne Regeneration
Bourne has seen a lot of regeneration and development over the past decade which has seen the town gentrify itself through continued investment and growth; there have been many new homes built in the area, along with the regeneration of Wherry's Lane (an integral part of the town centre) and a services park that make up some of this gentrification.
These are certainly exciting times for the town as investors continue to flood to the town and provide much-needed regeneration that is vital to help the town to prosper and provide more facilities for its growing population.
JD Wetherspoon
Pub giant JD Wetherspoon have been wanting to come to Bourne for some time but have struggled to find suitable premises. The closure of Wands and Jenny May's back in 2016, previously located on North Street, provided the perfect location to open one of their award-winning branches in the town. It took some time to be granted planning permission, but JD Wetherspoon finally completed the purchase of the two units back in June 2018 and will invest a total of 1.5 million in regeneration the units, which will include knocking through and extending out the back to create one big space. There will also be a small outside area provided. Bourne is pleased to welcome another big chain to the town, and it is hoped that Wetherspoon's will provide a welcome boost to the towns economy, adding to the excellent choice of pubs and restaurants in the town, and providing additional jobs. It is hoped that this exciting new venue will open its doors to the public in 2019.
The plans for JD Wetherspoon can be seen below.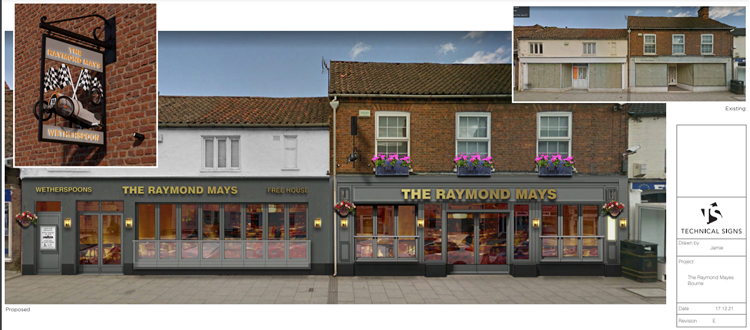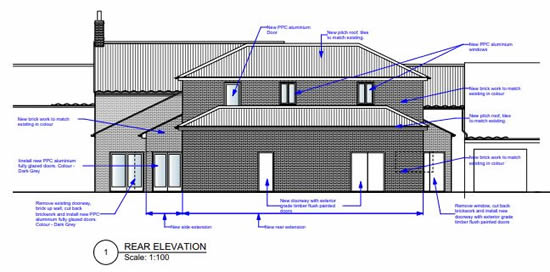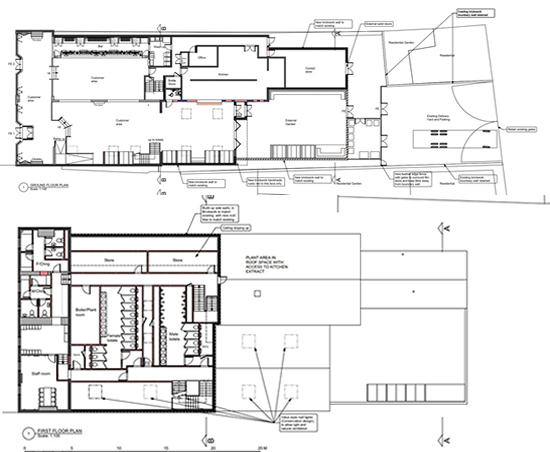 The Former ATS Garage and Fenland Stores
Plans have been submitted and agreed to convert the former ATS Garage and Fenland Stores, located on Abbey Road, to several new units, with one of the units confirmed to be a Co-op store that is due to open late 2019. These buildings have been empty for quite some time now and so it will be a welcome redevelopment for the town, providing a much-needed convenience store that has been lacking since the former Co-op closed its doors in the Burghley Archard back in 2017 (now M&S Foodhall).
The plans for the redevelopment of the site can be seen below.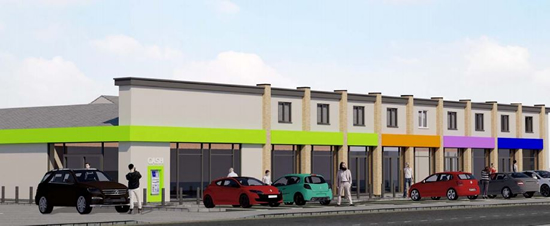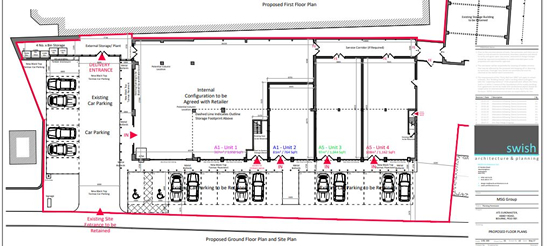 Wherry's Lane
Wherry's Lane (just off North Street) was redeveloped back in 2016, which saw the former Wherry's Mill regenerated into luxury apartments and several new retail units built, with well-designed apartments above. New paving, benches, lighting, trees and plants were also provided as part of this development. Although some of the new units remain unlet, all of the apartments have been sold and the units that have been occupied have reported doing well.
The redevelopment of this part of the town is set to continue with plans recently passed to build new housing on the adjacent patch of land that has stood empty since the initial phase of development was first completed. The development will see a mix of 20 two and three-bed apartments and townhouses that will be carefully blended to fit in well with the surrounding area, with parking provided within a court yard setting. This housing will provide much-needed accommodation for young professionals and the older generation looking for a property close to the town centre, along with helping to further revitalise this integral part of the town centre. Work on this development has now began and it is hoped this will be complete in 2019.
The plans for the redevelopment of the site can be seen below.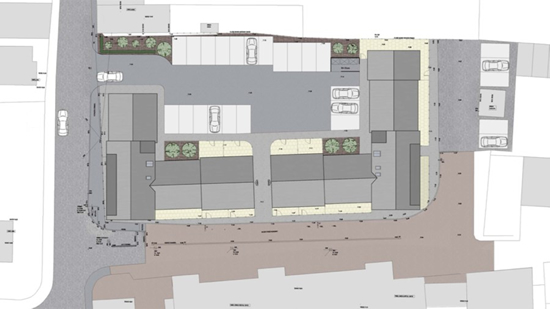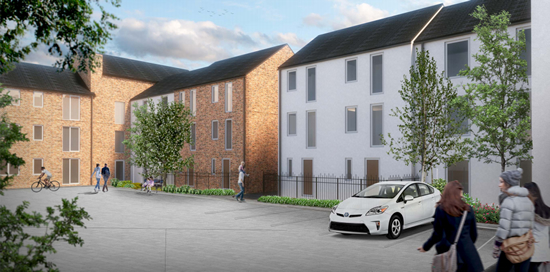 Former Eckfords Unit
The old unit that was Eckfords Estate Agents has been stood empty for sometime now but plans have been agreed to completely redevelop this building. The front part of the building that was formally the main Eckfords office is rumoured to be converted into a new restaurant with a complete new frontage planned. The rear of the building that currently consists of several old outbuildings will be converted into duplex units and apartments alongside a new parking area.
The plans for the redevelopment of the site can be seen below.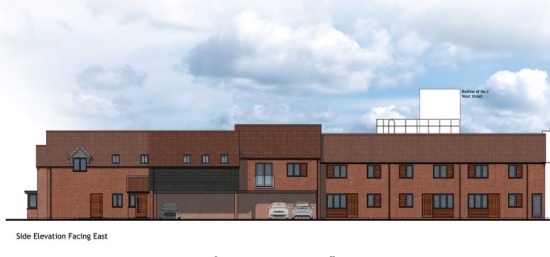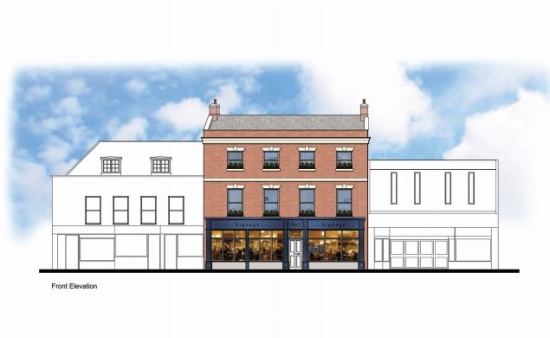 Derelict Building Next to Hot & Spice, North Street
The site next to Hot & Spice on North Street has been left abandoned for quite some time now, currently comprising of a derelict dwelling with adjacent land. The dwelling faces onto North Street and is a bad state of repair, adding to the somewhat neglected state of this particular area of the town centre.
Plans were agreed some time ago to knock down this dwelling and build six luxury two bed apartments on the entirety of the land, which will greatly improve this area of North Street, along with creating some much-needed housing.
After a long wait, building work finally seems to have started on this site and it is hoped that all work will complete by 2019.
The plans can be seen below.