The Red Hall
The Red Hall is the jewel of our architectural heritage.
The most famous secular building in Bourne is the Elizabethan style Red Hall that has survived several attempts to pull it down but is now protected by a Grade II listing.
The hall was built in 1605 by Gilbert Fisher, a London grocer, who wished to live in the country and used red bricks made in Bourne for the construction which gives the property its distinctive name.
Fisher spent so much on his ambitious project that he died in debt but his descendants managed to live there for almost a century followed by the Digby family whose tenancy led to the mistaken belief that it was used by Guy Fawkes and his conspirators in the Gunpowder Plot to blow up the Houses of Parliament, a theory now disproved.
Lady Catherine, as she became known, went to live there as a young bride, having married the owner, James Digby, who was thirty-seven years her senior, and she spent her time creating a fine garden around the house which she loved. James died in 1811 and Catherine, the last of the Digbys, in 1836 when the Red Hall became a private school for young ladies until 1860 by which time the railway was arriving in Bourne and it was sold for use as a booking office and home for the stationmaster with a connecting footbridge to enable passengers reach the platforms.
For the next 100 years, the building was subjected to the daily vibrations of steam locomotives and freight wagons rumbling past but miraculously, it survived without serious damage although when the railway station closed in 1959, local councillors were unanimous in their decision to pull it down.
The hall stood empty and neglected for several years until 1962 when Bourne United Charities acquired the freehold and after a prolonged period of refurbishment, the building was restored to its original glory for use as a museum and community centre although that promise has not been fulfilled and today the hall is used by BUC as offices although some rooms are hired out for functions.
Nevertheless, its colourful exterior remains a tourist attraction, frequently photographed by visitors and often used as a location for film and television dramas, notably scenes for the costume drama Moll Flanders based on the 1712 novel by Daniel Defoe which was shot by Granada TV in 1996.
There is a tale that the Red Hall is haunted by the ghost of a grey lady who flits through the rooms of the 17th century mansion on moonlit nights. Stories of the apparition have persisted over the years and for those who believe in ghosts, perhaps it is that of Lady Catherine who was so reluctant to leave her beloved home almost 200 years ago.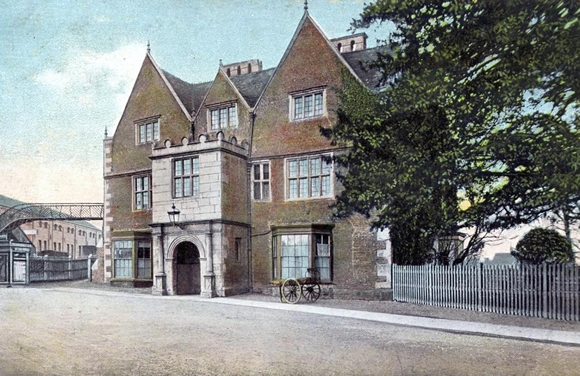 PHOTOGRAPH: The Red Hall in 1900 when used as the railway station booking office.
Article written and provided by Rex Needle.