Advertising on BourneTown.co.uk
Contact us now to start advertising!
To get started simply email bournetownuk@gmail.com with the subject 'Advertise my business!' and containing your website/Facebook URL, business name, contact details and your business logo.
Around 3000 visitors to the site every month!
Cheaper than magazine advertising!
Great exposure - you'll be listed for a whole year!
Why advertise with us?
According to Google, around 97% of consumers search for a local business online, so it should never be underestimated just how important it is to have a strong online presence. Although having a website is vital to get your business noticed online, getting your site ranked highly on search engines is a long and timely process, and many people are disappointed with the number of visitors they receive. Advertising your business on a website that is already ranked highly in search engines and specifically targets people in your geographical area is therefore the perfect way to improve your visibility online.
Advertising on BourneTown.co.uk represents cost effective advertising on an online platform that currently attracts around 3000 visitors a month, mostly from the local area. We have worked hard to ensure BourneTown.co.uk has a very high visibility on search engines and across social media, including Twitter and Instagram. Type in 'Bourne Lincs' or 'Bourne Lincolnshire' into Google and you'll notice that we are listed on the very first page of the search engines listings.
Our advertising costs just £159.00 for the whole year - that's only £13.25 a month! This is cheaper than many alternative methods of advertising and offers much greater flexibility.
I already advertise my business on social media, so what benefit will advertising on this site offer my business?
There are still quite a large pool of people who do not have any form of social media and so advertising on BourneTown.co.uk will also target these people - effectively, you're widening your scope of people who may see your advert. Advertising on social media may well be free to some extent but it has to be remembered that your reach will be limited to those who are online at that time or online shortly after you have posted because otherwise your post will be pushed so far down their timeline that they are unlikely to notice it. If the post receives a lot of comments and views it may get more visibility but that relies on putting the effort into always writing engaging posts - what business has got the time to do that?
Please find below a snapshot showing the visitor number to the site during August 2019.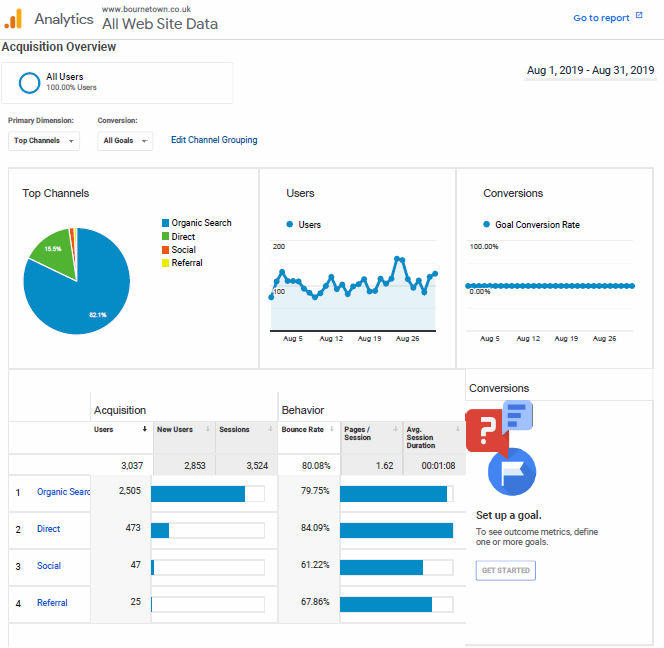 "We have had quite a few new customers from your advertising so would like to say thank you!",
Ruth from Peters Motor Company
For an annual fee of just £159.00, we will provide all the following - giving your business some great exposure!
1.) We will place a large graphical banner on the three pages of your choice (subject to available space) - your banner will also be listed on the Google Images search (for related key phrases).
2.) We will add a link to your website or Facebook/Twitter page from your graphical banner (this will help drive more traffic to your website/Facebook page, along with helping to improve your general search engine ranking by providing a quality back-link)
3.) We will also promote your business via our large following of people on social media, including Instagram and Twitter (nearly 1000 followers and counting!)
4.) We will add your business details to our very own Business Directory - effectively, giving you your own business page, listing your contact details, location and another link to your website/Facebook page! This listing will remain active even if you choose not to renew your advertising after the annual period, so your business will be listed on the site until you cease trading. Furthermore, if people enter search phrases relating to your business using the directory search or on Google, your business page will be listed.
5.) Your business details (name and description) will be listed on the HOME PAGE in our Recently Added section (for a temporary period only), with a link to your Business Directory listing.
How do I start advertising my business?
1.) Simply email bournetownuk@gmail.com with the subject 'Advertise my business!' and containing your website/Facebook URL, business name, contact details and your business logo.
2.) We'll then produce a suitable graphical banner for your advertising (or you can supply one for us to use, if you would prefer) and add this to the website on your chosen pages. We'll also tweet about your business and add your business details to our Business Directory.
3.) Once you're happy with the advertising, we'll request full payment and your advertising will remain live for a full year.
What will my advert look like?
We will design a graphical banner for your business that is professional and appealing to ensure this portrays your business in the best possible way and is successful at attracting attention. We will ensure your advert contains all key information about your business and will work with you to ensure you are entirely happy with your advertising before it goes live.
If you already have an advertising banner that you would like us to use, we are more than happy to use this instead of creating a new one.
An example of a graphical banner for an existing business advertising with this site is shown below.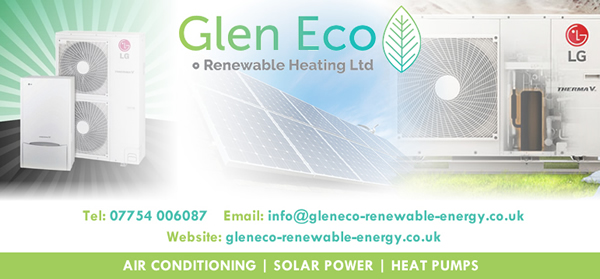 Who can advertise?
We are happy to advertise any type of business, whether you are a sole trader or large corporate entity. We generally like to advertise businesses that are in or around Bourne itself, but are not averse to advertising businesses elsewhere in the country too. We are also happy to advertise clubs and organisations.
Why advertise with us?
As you will see from the badge below, www.BourneTown.co.uk has great SEO meaning it features highly in the search engine rankings when using keywords related to Bourne. This means your advertising banner will receive some great exposure via traffic specially targeted towards Bourne. As we place advertising banners at the top of the page or within key areas of the page, they will be in a prominent location that will catch the user's eye as they browse the page. Unlike advertising in magazines and newspapers, your advertising banner will remain active all year round and can provide a direct path to your website/social media for people to find out more about you.

Why do you charge for advertising?
It costs money to keep this website running. We must pay for hosting the website, along with domain registration and paying for certain services on the site. Advertising revenue helps to pay for all this and without this we wouldn't be able to afford to keep the site running. We have tried to keep the cost of advertising low and as a result we feel this represents excellent value for money, especially when you consider that magazines can charge hundreds of pounds for advertising space.