Discover Bourne - An Historic Market Town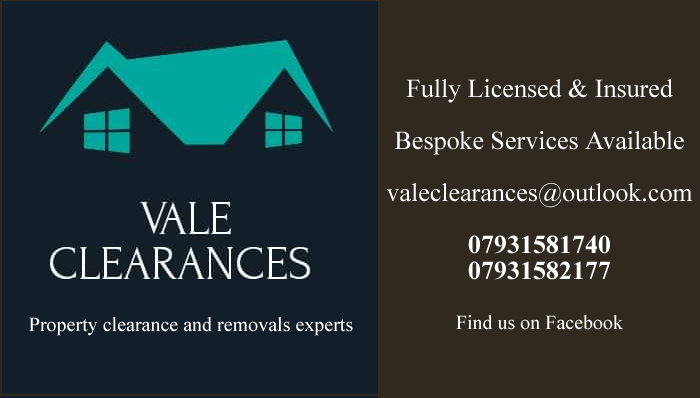 Bourne is an historic market town on the edge of south Lincolnshire in beautiful England, renowned for the purity of its water, its open spaces and its parks and woodland. The springs later provided the waters for the moat and ditches of a Norman castle, traces of which can be seen to the east of the pool in the Well Head Park.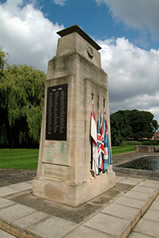 The town probably began as small settlement around a natural artesian well, supplied by several underground springs which are said to supply some of the purest water in the country. The Romans almost certainly established a camp here as it was at the northern end of King Street, which began close to the Roman town of Durobrivae, near modern day Peterborough.
The earliest record of the town is in the Domesday Book, in which it is recorded as Brune, derived from the Anglo-Saxon word brunna (stream) – hence the reason why Bourne folk are often referred to as Brunnians. The more modern name was Bourne until 1893, when the 'e' was added by the Post Office to avoid confusion with Bourn in Cambridgeshire.
The town is well known as the place where ERA and BRM racing cars were made, and also the birthplace of several famous people including William Cecil, Lord Treasurer to Elizabeth I, and in 1825, Charles Fredrick Worth, who revolutionised French fashion.
Did you know? A Bourne is an intermittent stream, flowing from a spring. Frequent in chalk and limestone country where the rock becomes saturated with winter rain, that slowly drains away until the rock becomes dry, when the stream ceases. This is why the town was named Bourne.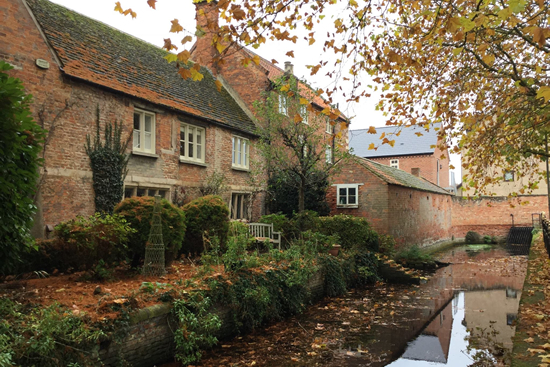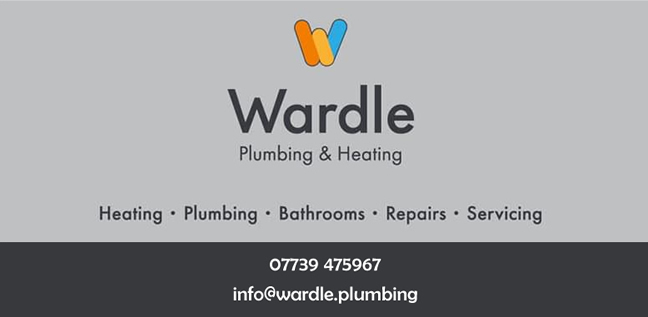 Education in Bourne
Bourne has a great reputation for offering high quality education across its many schools - it's one of the many reasons people choose to live in Bourne. The town boasts two outstanding secondary schools, including the reputable Bourne Grammar School, which is the best state-funded secondary school in Lincolnshire and is featured in Tatler's list of the country's top 20 state secondary schools, and the Bourne Academy, which has recently been reported as being in the top 15% of schools in England. There is also a well-regarded school for pupils with learning difficulties called The Willoughby Special School.
For primary school education, Bourne has three established primary schools, all of which have been rated as good or outstanding by Ofsted (see Locrating.com for more details on Local Schools). There is also a highly reputable boarding and day school, Witham Hall, who offer a high standard of education for boys and girls aged four to 13 years. Set in extensive grounds, Kirkstone House is another option for private education. This small and friendly school offers private education to children of all ages (three to 18 years old) in the near-by village of Baston.
For those seeking higher education, near-by Stamford has an excellent College (New College Stamford), along with a Higher Education Centre that offers a huge variety of courses. There is also a University Centre at near-by Peterborough offering over 30 different degree level programmes, including archaeology, business, computing, construction, education, engineering, media, and sociology. A regular bus service to both institutions is provided from Bourne and the surrounding area.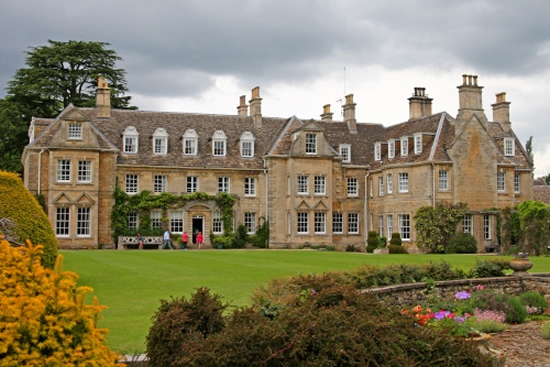 Amenities in Bourne
Bourne is a growing market town with many amenities, including a large leisure centre (with gym, pool, sports hall and group classes), artificial grass pitch, indoor golf centre, outdoor swimming pool, snooker and sports bar, arts & entertainment centre, an excellent choice of restaurants and public houses, several gyms and a good range of shops and businesses.
Bourne is also blessed with many green open spaces that provide a lovely setting for a variety of recreation activities and relaxation. Managed by Bourne United Charities, the Abbey Lawns boasts an attractive cricket ground, bowling green, tennis courts, large sports field, and a traditional near Olympic size heated outdoor swimming pool. Situated close to the town centre, this large open space is perfectly placed for those wanting to relax on a hot summers day, as well as those wanting to pursue more energetic activities, or be a spectator for the various cricket matches that take place here. The grounds of the Abbey Lawn are home to a number of clubs in the town, including Bourne Tennis Club, Bourne Town Football Club and Bourne Town Bowls Club.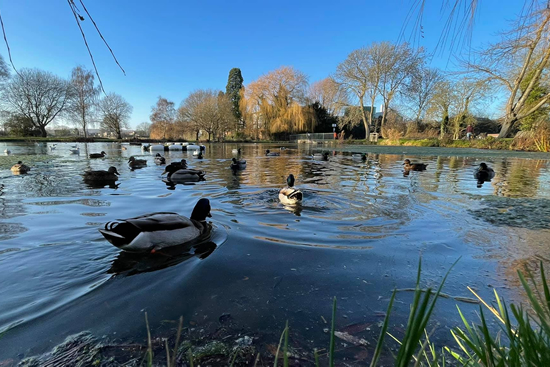 Bourne is also lucky enough to benefit from a large and well cared for park, known as the Wellhead Gardens, consisting of around 21 acres of parkland that is open to the public all year round and managed by Bourne United Charities. The park has an abundance of trees and water ways, and some intriguing historic buildings, including the Wellhead Cottage (see picture below), which is an old limestone property that dates back to the 18th century and is owned by Bourne United Charities, rented as a private home to suitable tenants. Shippon Barn also sits in the Wellhead Gardens and it is thought that this was constructed from the remains of an old castle that was once thought to have occupied the Wellhead Field (at the back of the Wellhead Gardens). The Bourne castle, as it was known, was probably built by Hereward The Wake and the only evidence of of the castle that now remains is some grass-covered ditches. The Wellhead Gardens are also home to one of the most ancient sites of artesian water supply in the country - St Peter's Pool. This pool is reputedly fed by seven springs which never dry up (although this source is now tapped by Anglian Water to provide water supplies for a large catchment area), and this once formed the source of the water defences of Bourne Castle as well as the power for the town's three mills. St Peter's Pool is the source of the Bourne Eau, which is a stream (turning into a river) that flows in an easterly direction to join the River Glen at Tongue End. The park has seen many improvements in recent times, which has seen a general tidy-up and a number of new walk-ways constructed, allowing the public to explore previously inaccessible areas. The best time to visit the park is in the spring time when the trees that line the pathways are full with blossom - a truely stunning site.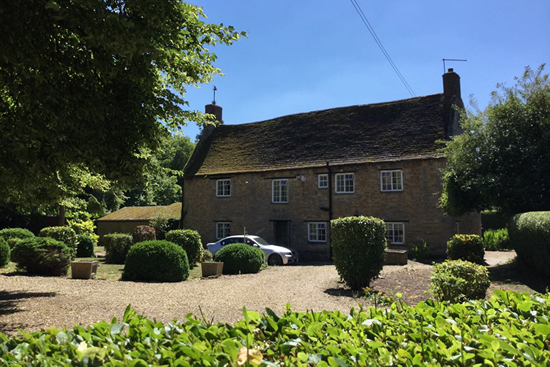 Located just off South Street in the town, the pretty Memorial Gardens are another attractive green space in Bourne, featuring 22 memorial stones that lead to the War Memorial (96 names are commemorated of those who lost their lives in the First World War, and 32 for the Second World War). There is a pond either side of the War Memorial with fountains, and you'll also find ample bench seating to relax. The stone bridge linking South Street to the Memorial Gardens (over the Bourne Eau) has been voted one of the top ten poohsticks bridges by VisitEngland.
Arguably one of Bourne's best leisure facilities are the historic Bourne Woods. Situated on the western outskirts of the town, this managed ancient woodland is a mixture of conifers and broad-leaved trees that is home to a variety of stunning wildlife, including the majestic Fallow and Muntjac deer. There are many tracks for the public to explore, in 400 acres of truely beautiful woodland - great for exploring by foot or by bike all year round. For public convenience; parking facilities and a picnic area are provided at the main entrance to the woods from the A151. The best time to visit the woods is early springtime when the pretty bluebells are in full bloom, providing an impressive display of blue carpets of flowers. In spring, the dog's mercury, wood anemone, yellow archangel and wood sorrel can also be seen in the woods. The woods are a hive of activity, with plenty of organised events for all the family through-out the year. Please visit the Friends of Bourne Woods website for a full list of upcoming events.
If you fancy a complete retrieve from the town, the beautiful diverse Lincolnshire countryside is easily accessible via car, bike or on foot, with many pretty traditional Lincolnshire villages a short distance from Bourne. The honey-coloured, limestone villages and rolling hills to the west of Bourne located in the pretty Kesteven Uplands are particularly worth exploring. The Kesteven Uplands are steeped in history with an array of ancient woodland to be explored, along with some stunning historic buildings (most notably Grimsthorpe Castle, Park & Gardens), parklands and some breathtaking views. Amongst the many delights of the countryside, you will find many traditional country pubs, most of which serve food daily and have outdoor seating areas for those hot days of summer. If you're lucky, you may also catch a glimpse of Fallow or Muntjac Deer that sometimes venture across the winding country roads - for this reason, it's important to drive carefully and slowly along these roads.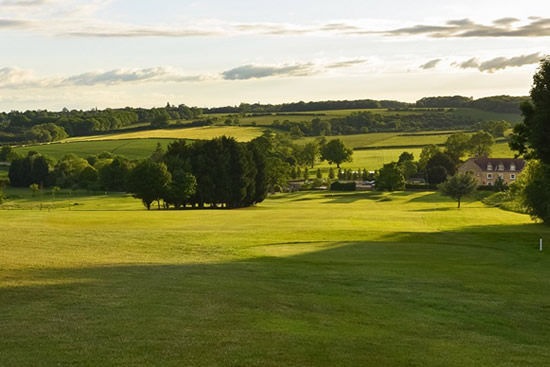 Alternatively, near-by Peterborough offers a vast number of amenities, typical of any large city. Some of Peterborough's best facilities include a large shopping centre, deluxe showcase cinema, laser quest, bowling alleys, ice-skating rink, greyhound racing, go-karting, and many fast food outlets. Peterborough also has an excellent range of shops and restaurants, along with a good selection of places to socialise over a drink or two, not forgetting the impressive cathedral that sits in the heart of the city centre.
Bourne Town Centre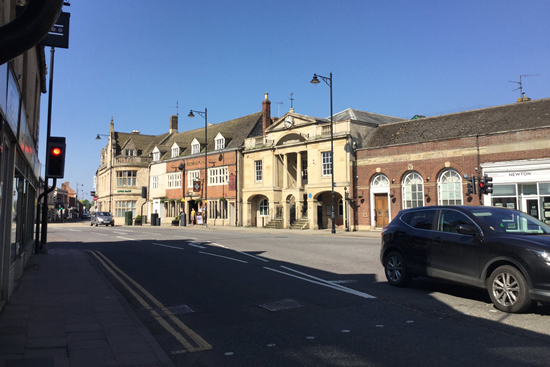 The town centre generally consists of 18th and 19th century buildings, but there are diverse mix of building styles, where centuries old buildings, such as coaching inns, sit alongside new red brick buildings. Medieval character can still be seen in Wherry's Lane and Angel Precinct. The town centre has 13 listed buildings and many unlisted buildings which make a positive contribution to its character. Indeed, much of the town centre is within the Conservation Area which provides for greater control over the quality of new development. There are four main roads (North Street, South Street, West Street and Abbey Road), each consisting of several shops and businesses, with North Street being home to the majority of these. There are also several pedestrianised parts of the town centre, including the Burghley Centre, Wherry's Lane, Crown Walk and Angel Walk. The town benefits from three car parks (South Street, The Burghley Centre and Burghley Street), all of which offer free parking (The Burghley Centre is subject to restrictions) and are close to the centre of town. Restrictive parking is also available on the side of the road in some areas of North Street, West Street and Abbey Road. For details about parking, please see http://en.parkopedia.co.uk/parking/bourne/.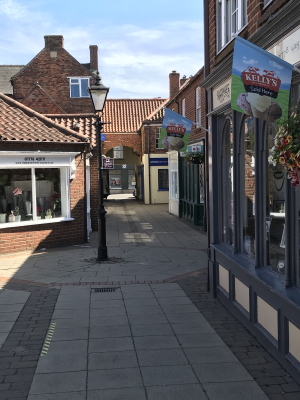 The town centre is dominated by small, independent retailers, giving Bourne the feel of a traditional market town. Some high street retailers do also have a presence in the town centre, including M&S Foodhall, Boots, Lidl, Subway, Costa Coffee, Heron Foods, Superdrug, Card Factory, Sainsbury's and Tesco. There are also a great selection of cafes and eating establishments in the town, providing a welcome reprieve from the stresses and strains of the high street. Bourne also offers many nice pubs and restaurants, providing a hugly diverse choice for eating out and drinking. Many pubs also provide entertainment, including karaoke, live bands, and quizzes. For more hardcore party goers, there are several late-night venues playing party tunes until the early hours of morning. Bourne also benefits from a large industrial estate (Cherry Holt Road) which is home to a number of businesses, including Screwfix, Branch Brothers, The Bathroom Store, Vintage Retro Warehouse, Escape, The Universal Fitness Centre, Bourne Snooker Centre and Perfect for the Home. The Bourne Household Waste Recycling Centre is also located here, along with a number of car repair garages.
Bourne has an impressive 71 listed buildings in total, with a diverse range of attractive architecture to be seen - most notably, the Red Hall which is a stunning Grade II architectural legacy in the heart of the town. This delightful building is among the oldest surviving domestic properties in Bourne today (it was also used as the town's railway station booking office and waiting room from 1860 to 1959). It was built in the early 17th century by a wealthy businessman, Gilbert Fisher, remaining in his family for almost a century. It is now owned by Bourne United Charities who use this as office space and to hire out for private functions and meetings. Another historic building is the ancient Baldock's Mill - dating back over 200 years and the only remaining mill in the town. This building is now used as Bourne's Heritage centre, and is classified as a Grade II listed building because of its architectural and historic interest. This old mill has benefited from a new electric water wheel in recent times, generating up to 5kw of power. Other notable buildings in Bourne include the Angel Hotel (a modernised traditional inn dating back to the 18th century), the Corn Exchange (built by a private company in 1870), Bourne Abbey Church (dating back to the 12th century), the Grade II listed Bourne Eau House (dating back to the 16th century) and the former Town Hall (dating back to 1821).
The town hosts a twice weekly market next to the popular Corn Exchange - the venue for many events and meetings in the town. The market, held on Thursdays and Saturdays, offers a variety of stalls, maintaining the traditional values of the town. Special market events are also held though-out the year, including the Christmas market, which marks the beginning of the Christmas season.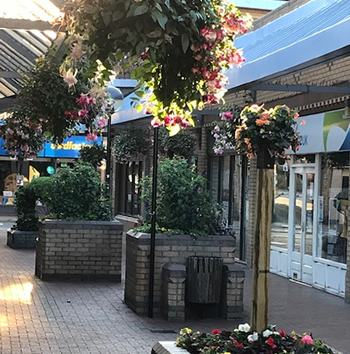 The town is currently undergoing somewhat of a mini transformation, owing to its expanding population; Wherry's Lane (leading from North Street to Burghley Street) has been recently regenerated to become an integral part of the town centre, with new retail units, luxury apartments and town houses. An arts & entertainment centre has also recently opened within the former Town Hall, offering a variety of live entertainment and a pop-up cinema. There are also plans for a number of new shops, restaurants and a Wetherspoons pub in the town centre, which it is hoped will help create a more vibrant town centre - see our Bourne Regeneration page for more information.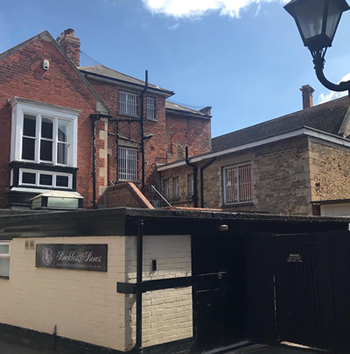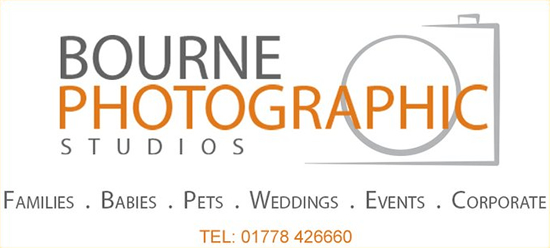 Living in Bourne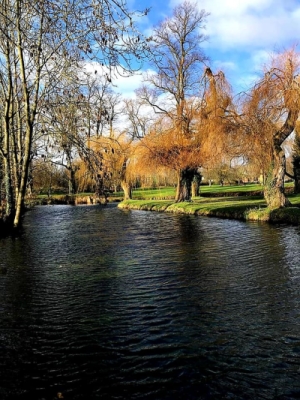 Bourne is a very well-kept town and a friendly place to live, with a great community spirit and air of pride about the town; people genuinely seem to care about the town - perhaps that's what makes it such a great place to live!
A survey by The Lincolnshire Research Observatory* demonstrated that 87% of the Bourne area respondents agreed or strongly agreed that they believed people from different backgrounds got on well together. A community spirit and sense of togetherness are encouraged by the vast number of clubs and activities available in and around the town, many of which are run by willing volunteers, and by the general tidy appearance of the town centre that is kept looking colourful and clean all year round by the Bourne in Bloom team.
A big proportion of housing in Bourne is represented by detached family houses and bungalows - many of which were built in the 1970's and 1980's as part of a major expansion to the west of the town. There are, however, a variety of other housing types available in the town to suit different living requirements, including semi-detached, town-houses, terraced, apartments and some lovely old cottages.
More recently there have been a number of new high-density housing developments being built in the town to accommodate the growing number of people wishing to move into the area. The biggest of such developments being the Elsea Park estate, located on the southern outskirts of the town that is expected to bring 2000 new homes to Bourne upon completion. This estate has provided the largest influx of housing in Bourne for many years and was greeted with a great deal of criticism when plans were first submitted. The estate is, however, an attractive development, which is managed by a Community Trust, with a large multi-purpose community centre at the heart of the estate, providing a variety of clubs and activities for residents of the estate, and valuable meeting space. The Trust also help to manage an extensive area of meadow land opposite the estate that includes man-made waterfalls, ponds, bridges, picnic benches and footpaths - this area of land is popular with residents of the estate who use it to walk their dogs, go for a stroll, cycling and jogging, along with accessing the ancient Elsea Woods that borders this land. There is also a brand new state-of-the-art primary school, shops and nature conservation areas. Houses are set among existing woodland and ponds, and the lake and fountains that form the entrance to this innovative development creates an impressive entry into the town from the A15. The estate also includes much-needed affordable housing for Bourne, which has been lacking in the past as most of the old council housing stock in the town has been brought under the Right to Buy scheme. Although home to a variety of people, the estate is particularly popular with young professionals and families.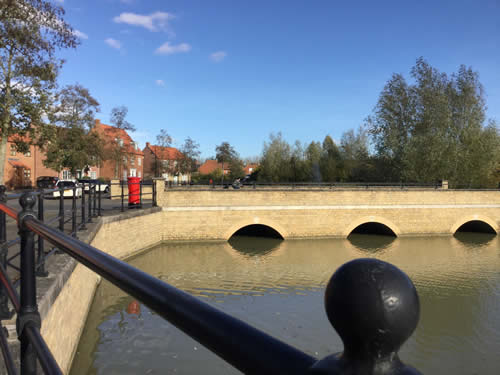 House prices in Bourne are generally amongst the most expensive in the county due to the excellent schools in the town and good transport links, however, prices are considerably cheaper than the near-by town of Stamford and sound of the surrounding villages to the west of the town. It should be possible to pick up a two bed apartment for around the £130,000 mark, with the average cost of a detached family home sitting around £300,000. The housing market in Bourne is buoyant and house prices have been steadily rising over recent years although prices are now showing signs of stabilising.
Despite its rural location, Bourne has excellent commuter links to other towns and cities in the area (including London) - it is just 16 miles from the popular city of Peterborough, and approximately a 50-minute drive from the county's capital - Lincoln. The vibrant cities of Nottingham and Leicester are also only around an hours drive from Bourne and the town is around a 20 minute drive from the A1, providing great transport links to London and other parts of the country. The towns of Market Deeping, Spalding, Stamford, Sleaford, Grantham, and Boston are also within a 30 minute drive of the town. There are also excellent train links to London and other destinations from near-by Peterborough (sat nav: PE1 1QL) - a journey to London can take just 50 minutes using the high speed East Coast main rail line and there are around 90 direct trains a day from Peterborough. The near-by towns of Spalding and Stamford also have train stations offering regular transport links. The town is well-served by a local bus company, Delaine Buses, that operates a regular service in and around Bourne and to near-by Spalding, Stamford, Market Deeping and Peterborough (and villages on-route).
The residents of Bourne generally enjoy a good quality of life - according to The Lincolnshire Research Observatory*, the town has recently been reported as having one of the lowest rates of anti-social behaviour and unemployment in the whole of Lincolnshire. Bourne has also been reported as having the lowest child poverty rate in the county and far fewer people with long term illnesses and people claiming incapacity benefits or disability living allowance. The town is also fortunate enough to have one of the best state secondary schools (Bourne Grammar School) in the county, where GCSE results are the highest across the whole of Lincolnshire, Rutland and Peterborough
A recent survey (conducted in 2014) has also listed the district of South Kesteven, which incorporates Bourne, as number 18 in the top 20 local authority districts to live in the UK. The county of Lincolnshire is also considered to be one of the safest counties to live in, with one of the lowest rates of violent crime in the country, and has one of the lowest rates of obesity in the whole of Lincolnshire.
*Report by Lincolnshire Research Observatory, Lincolnshire County Council - 'Equality and Diversity in Lincolnshire' 2009.